Lakeview Park Campground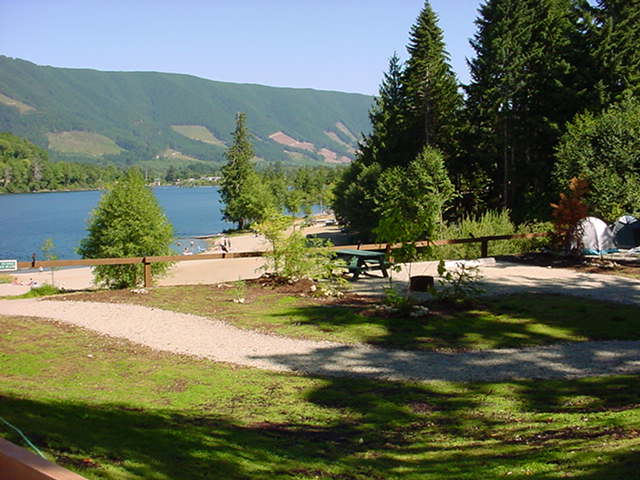 8815 Lakeview Park Road - Lake Cowichan
(250)-737-3459
(General inquiries only, available May - September long weekend)
Directions: Take a right past the Arena on South Shore Road
Lakeview Park has been closed for the season. Early closure was necessary due to no water supply to the campground. The reservation system is closed for the season and will re-open for bookings March 4, 2024 around noon. All reservations must be made online on our booking website.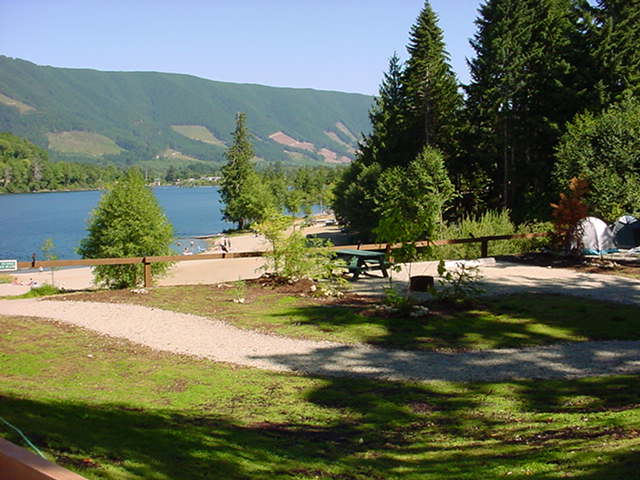 ---
Reservations
RATES
A rate of $37 per site is in effect for each night with an additional fee of $13 per night for a powered site. Also, a non-refundable booking fee of $3.00 per reservation will added to each reservation. This fee is paid to the developers of the booking website for maintenace and improvements to the reservation system.

Please refer to the Fees section below for the reservation and cancellation fees and policies.
HOW TO RESERVE & PAY
Booking must be done online at our booking website. Reservation and campsite fees must be paid by VISA, MASTERCARD or AMERICAN EXPRESS at the time of booking. Payments for walk-in bookings may be paid by credit card or interac. Please note that if your credit card is declined, the reservation will not be be completed or valid. We do not take over-the-phone reservations.
INSTRUCTIONS AFTER BOOKING
When making a reservation, you will be issued a reservation confirmation number. Please have this number upon arrival at the campground. Cancellations can be made by emailing general@lakecowichan.ca with details including name, email used to make the reservation, site number, the booked dates and confirmation number. Reservations must be made one day prior to your arrival date at the campground. Book early as the campground can fill up quickly.
LONG WEEKENDS
If you are booking a campsite on a statutory long weekend, you will be required to reserve a minimum of three nights
FREE FAMILY MOVIE NIGHTS
Free family movie nights every Friday and Saturday at 8pm during the summer camping season.
---
Fees
CAMPSITE FEE
The campsite fee is levied on a per party, per vehicle basis (see Camping Party Size definition). The campsite fee at Lakeview Park is $37.00 (including taxes), per camping party per site. At the time of reservation, payment of only one camping party per site is required. Any additional charges per site (e.g. extra vehicles) will be charged at arrival time.
OFF SEASON CAMPING
The campsite fees are levied on a per party, per vehicle basis (see Camping Party Size definition). The campsite fee is $37.00 and $50.00 for a powered site (including taxes) per camping party per site. Off-season camping may run from the end of Labour Day long weekend in September to just before the May long weekend. If there is a concern for wildlife (bears), the campground will be closed and not open for off season camping.
Unless otherwise noted, reservations during the off season are on a drop-in basis and payments are made on arrival.
POWER SITE SURCHARGE
Sites 2 through to 30 and from 35 through to 38 have power and water. There is an additional fee of $13.00 per day for each of these sites.
BOAT MOORAGE FEE
Very limited moorage space is available and will be available only on a first come first served basis. There is a $20.00 per day moorage fee to tie up a boat at the Lakeview Campsite wharf. Moorage cannot be booked online but can be paid on arrival to the Campsite Attendant, on a first-come first-served basis, for which you will receive a reservation tag. The fee covers moorage up until 12 noon the following day. Multiple days may be paid for at once.
---
Policies
Camping Party Limits
Due to wear and tear, maintenance and conservation factors within our parks, limits must be placed on the party size - the number of people and vehicles each campsite can accommodate.
In Lakeview Park, a camping party is defined as follows:
One to four persons 19 years of age or older. An additional charge of $13.00 per adult per night will be charged if more than 4 adults per site.
A maximum of eight persons including children (18 years of age and younger).
Vehicles per Camping Party:

Only one vehicle and trailer and the latter may be an unmotorised RV.
Two vehicles may be permitted per site in the absence of an RV or trailer.
No boat trailers are permitted on any site.

Campsite maximum:

One camping party per site (except for designated group sites).

There will be NO exceptions to Camping Party size and vehicle numbers.
Campground Information
Check-out time is 11:00 a.m. Check-in time is after 1:00 p.m.
Campground gates closed between 10PM &7AM.
No lifeguard on duty.
The Town accepts no liability for damages or injuries and is not responsible for stolen property.
The campsite may prove challenging for persons with physical challenges, disabilities or mobility problems.
The washrooms will be open and cleaned during regular staff hours. Please bring your own clean trip kit for off-duty/overnight washroom use.
Rules
NO ALCOHOLIC BEVERAGES ALLOWED IN AREAS OTHER THAN NUMBERED CAMPSITES
NOISE IS PROHIBITED from 10PM to 7AM.
Excessive noise is not permitted at any time.
Dogs MUST be kept on a leash at all times. Owners responsible for picking up and disposing of pet droppings in garbage cans.
Absolutely no dogs allowed on the beach due to health concerns
Campfires are permitted in fire pits only, unless banned. Campfires must not exceed .5 meters in size and may not be left unattended.
Speed limit is 15 kilometres per hour and please do not block roadway
The use of generators is not permitted in the park.
No motor bike riding in park
Garbage should be placed in containers provided
No camping in areas other than in numbered sites
Boat trailers are to be parked only in the day parking area. The access gate to this parking area is locked in the evenings.
No tree cutting.
Sewage and grey water may not be discharged into any fresh water or land. There is no sani-dump in the park, but there is one located 5 minutes from the campsite in Lake Cowichan.
Vehicles with boat trailers must park at the designated area on the upper parking site.
Cancellation Policy
Please note that for any cancellation, a fee of $22.00 per site (plus the non-refundable booking fee) will be deducted from your refund for each confirmed reservation number. All refunds will be credited back to the credit card originally used to make the booking. No refund will be given if the cancellation is made less than 10 days prior to the arrival date. The cancellation must be made by email to general@lakecowichan.ca with name, email, site number, dates and confirmation number.